VT Solutions was founded in 2003 by an enterprising and  energetic Fijian professional, Shailesh Sharma , who saw a gap in the Fiji market for efficient and effective delivery of the latest in technology solutions to Fiji businesses, corporates, NGOs and government-owned entities.
Fuelled by his passion for customer service and love for technology, Shailesh left his management role with his-then employer and began the process of chasing his entrepreneurial dreams. He borrowed his late mother's computer, started operating the company from his home study, hustled for deals and slowly grew the business.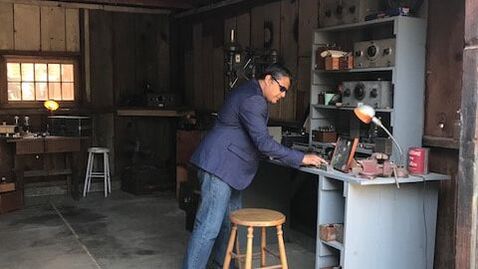 Our founder and owner Shailesh at the birthplace of the famous Silicon Valley in Palo Alto, California –
​the home garage of Hewlett Packard's founder, William Hewlett.
VT Solutions is today the leading and arguably, the most trusted ICT company in Fiji to service the corporate market, employing close to 40 people in its branch offices in Fiji's capital city, Suva, and the tourism hub of the country, Nadi.
From these bases, our business has been servicing our clients around Fiji and in several other Pacific island countries for 17 years now.
Our core business has not changed – to provide complete technology solutions to businesses, corporates, NGOs and government agencies in Fiji and the Pacific.
We make it our business to make your business better with technology!
We operate on the premise that we will always find the best tech solutions for our clients – solutions which work best for them and which they can afford; have these delivered to them in the fastest possible time and when things don't quite go as planned, that we will be right there to support and fix issues for them.